Custom healthcare gift set for your client
Custom healthcare gift set promote health and safety in the workplace and shows that your brand cares about its customers' well-being. With concern over various viruses, germs, and just general cleanliness, preventive care is something everyone should have at the top of their minds. With healthcare-related gift items, you can put your logo on things like 3 layer washable face mask, hand sanitizer, or even mask case that makes for a perfect on-the-go gift set. Each time client use it, they'll be reminded of how useful and convenient it is while maintaining a positive impression of your company and business.
There are plenty of other types of health-related products and gift set that create a positive impression for your brand.  Browse our limited edition of healthcare gift set and start customizing with your logo today at giftfive.com.my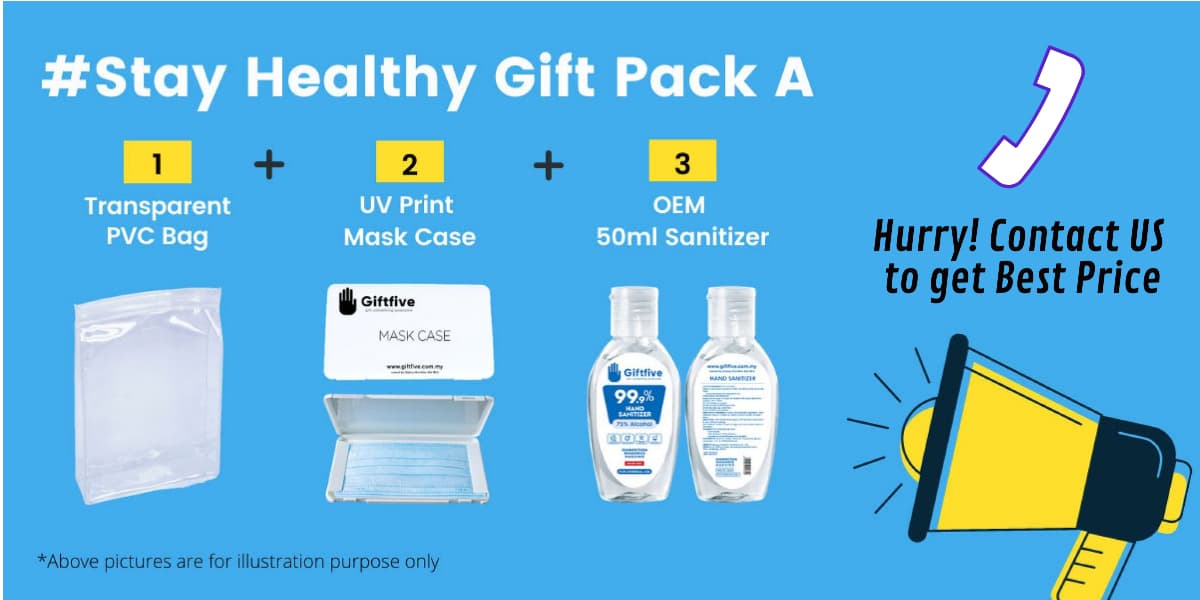 Stay Healthy Gift Pack A
1) Transparent PVC Bag
2) UV Print Mask Case
3) OEM 50ml Hand Sanitizer
4) Customized Logo Printing is Available
5) Limited to 5 Discount Coupon
Stay Healthy Gift Pack B
1) Transparent PVC Bag
2) UV Print Mask Case
3) OEM 50ml Hand Sanitizer
4) B/W Logo FACE MASK + 2 unit PM 2.5 Filter
5) Customized Logo Printing is Available
6) Limited to 5 Discount Coupon
Custom healthcare gift set are a great way to show that your company cares about others' well-being.
Healthcare is an important part of everyday life that can sometimes get overlooked. Sure, people go to the medical doctor when they need to, but there's always more to be done when it comes to having proper medical supplies and staying sanitary in a world where there is constant concern over viruses and germs. Personalized healthcare gift set offer a great opportunity to get your company in front of others with something that's both unique and practical.
Branded hand sanitizer as healthcare gift set
Branded hand sanitizer whether you're travelling, in the office, at the gym, or anywhere else, it's always important to have some on you. Washing your hands is always the best option to keep from spreading germs, but sometimes that's not the most convenient option. If people have a bottle of sanitizer with your logo on it, they'll keep your brand in mind each time they use it. Mask Case are another option to consider as they may provide a larger printing area for your logo and branding and are just as useful.
Why use Reusable washable face mask as healthcare gift set

Along with preventing diseases, people also need to be prepared for various crowded environment. Reusable washable face mask with customized logos are a way your business can help here. You'll be providing piece of mind to recipients, who will now be ready for anything and will be reminded of your company whenever they wear your washable face mask. You can find all sorts of useful healthcare-related promotional products that not only amplify your business but help promote health and safety. Contact our customer care officer to learn more and start customizing promotional healthcare gift items for your business. We are able to prepare healthcare gifts in bulk for your employees, for agm door gifts or marketing campaign.